So your in a band and you are sick of playing shows with one man and his dog. This is the 1st step to becoming a successful band. The 2nd step is doing something about it. Here are some sure fire ways to get people listening to your music, getting better gigs and get making new fans.
—
RECORD YOUR MUSIC
It's great having an air of mystery initially, but this rapidly loses it's mystique. You can talk all day about how a band sounds. Honestly, the proof is hearing the noise you are producing. Get a good demo together and let people know what you sound like. Let people decided for themselves.
—
GIG REGULARLY
Gigs are the best way to promote your band and making new fans. Make sure to play a decent amount of gigs and space them out proportionally.
—
PRACTICE REGULARLY
You band needs to be tight. You need to know your songs inside and out. You also need to learn how to hide your mistakes.
Every song is it's own beast. Master it. Make it better. Make new fans.
—
SELL YOUR MUSIC
Be it online or in person, it's essential to have your music available. Sell it in as many different ways as you can.
—
TALK TO GIG GOERS AT GIGS
Say hello, ask them what they thought. If they don't like it, that's cool. If they do, make sure to thank them for coming down and ask if they wouldn't mind leaving a comment on your Facebook or Instagram or whatever. Have something to give them so they know where to find you. You never know who they are, or who they know. These people will help you on the road to making new fans.
—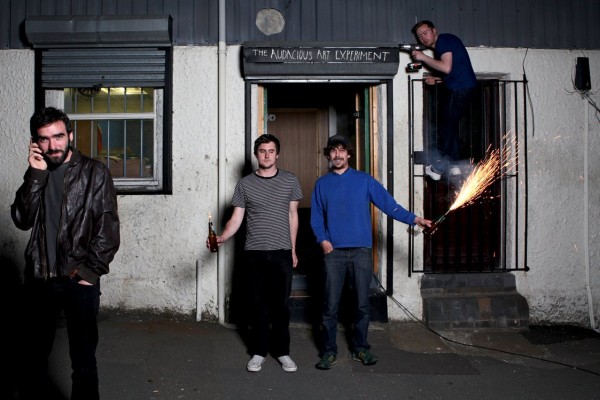 TALK TO VENUE OWNERS AND PROMOTERS
Promoters and music venue owners make awesome gigs by knowing bands. Venues and promoters share details about good bands that engage with them. Do good gigs and get to know them. Make sure to have your details on standby, maybe something for their car.
—
TURN UP ON TIME, WITH YOUR GEAR
Nothing says 'shite band' quite like being late and having to lend gear unexpectedly. If you are told to be there at a time; be there and fully prepared, at that time.
—
DO POSTERS FOR YOUR GIGS
Even if the venue has kindly stuck you up on their listings, put up posters around the area that you are playing. Even if you just send a few to hang up round the venue, it will make more people come than not advertising your gig. Great for what marketing professionals would call "visibility" and will be instrumental to making new people come to your gigs.
—
CHAT WITH OTHER BANDS
Trade for music, get their details, have a laugh with them if they are so inclined. The biggest fans of music tend to be musicians.
—
CHAT ABOUT OTHER AWESOME BANDS WITH PEOPLE
Know an awesome band you played with last week? Tell some other bands. There is no bigger compliment than someone saying "oh, I heard about you guys from <insert regular name here> from <insert band name here>!" Also you can learn about local bands that are awesome.
—
BE ENTERTAINING
You can be all manner of horrendous things in music, one of them is not boring.
—
RESPECT
It is essential to working in a world with people in it. Everyone has their own struggle, and you probably have a lot in common with everyone around you. Respect where respect is due, unless it's really really funny.
—
ONLINE STUFF
Learn about it. Learn what is valuable and not. Don't keep pestering people, unless they want to hear about you.
—
SAY PLEASE AND SAY THANK YOU
Like indicating at roundabouts, it's becoming a lost art. You would be surprised how something so simple can alter the course of your musical destiny, very drastically.
—
Sell Merch
T-shirts are the standard staple. Ensure they are good quality and can be worn for years. Comfort is essential. Trade with bands. Be the band with the really nice shirts. Anything else is a bonus. This will let you gig much further afield.
**Caution, Advertisement**
Want to sell CD's at your gigs?
Want cards and stickers to hand out for promoters, venue owners, and fans?